Why soft armor?
Each Soft Armor holster is meticulously designed using premium materials, ensuring durability and long-lasting performance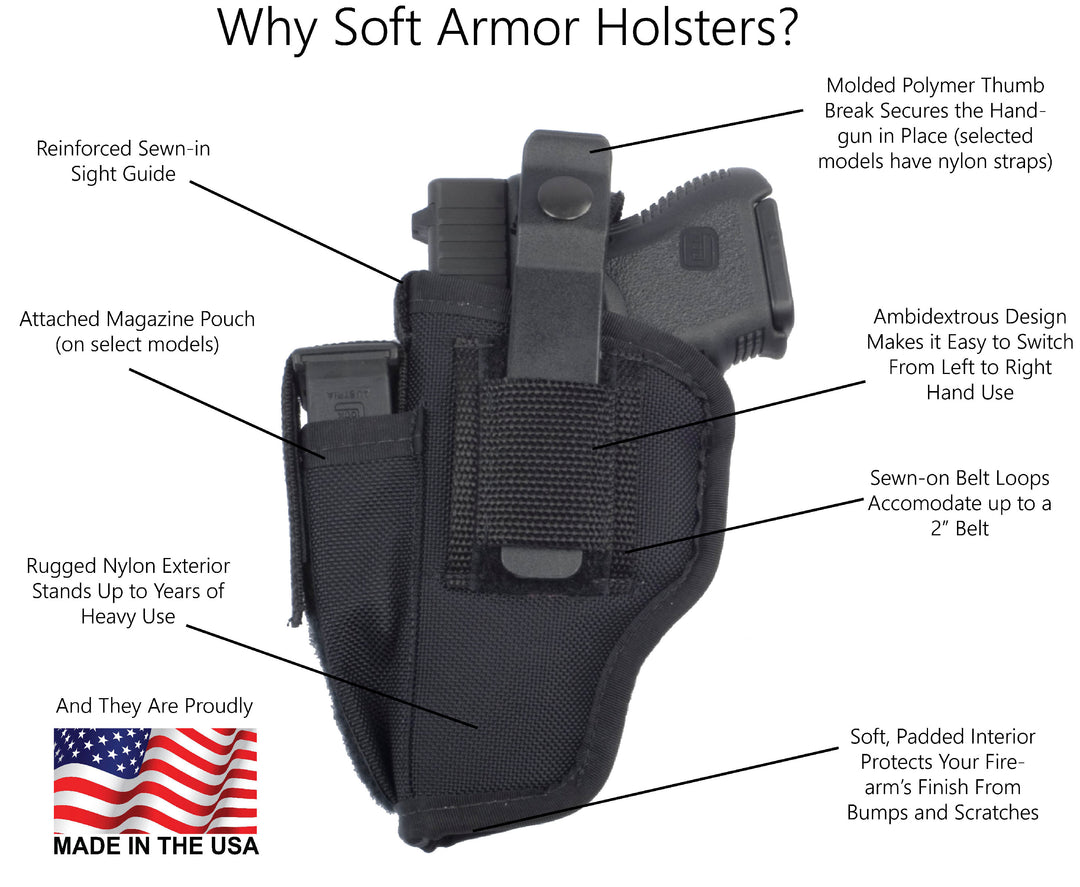 american made
Not many holsters are still Made in the USA, but we have been proudly manufacturing in Nevada, MO for over 41 years!
★★★★★

"Soft Armor holsters have completely changed my open carry experience.
The level of comfort and convenience they offer is unmatched. I can
confidently wear my firearm all day without any discomfort or
irritation. The attention to detail in their design and construction is
evident, and the holster provides a secure fit and easy draw. Soft Armor
has definitely won me over as a loyal customer." - John M.
★★★★★

"After trying multiple holsters from different brands, I finally
discovered Soft Armor, and I couldn't be happier. The quality and
craftsmanship of their holsters are outstanding. I appreciate the
adjustable features that allow me to customize the fit to my preference.
The retention system is top-notch, providing a secure hold without
sacrificing quick access. Soft Armor holsters have become an essential
part of my daily routine, providing both comfort and peace of mind." -
Sarah T.
★★★★★

"As a law enforcement officer, finding a reliable and comfortable backup holster is crucial. Soft Armor holsters have exceeded my
expectations in every way. The durability of their products is
exceptional, withstanding rigorous daily use without any signs of wear.
The ergonomic design ensures a comfortable fit, even during long hours
on duty. I trust Soft Armor to securely hold my firearm while allowing
for a smooth and efficient draw when needed. Highly recommended for
professionals and civilians alike." - Officer Mark S.